Symposium Excursion: Queen Sirikit Botanical Garden
(Wed, 28 December 2022, 13.00 - 18.00)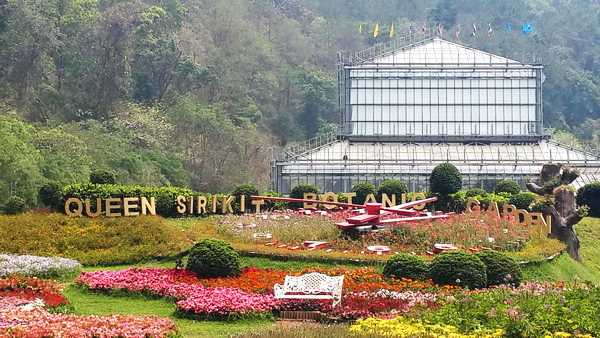 (
https://mychiangmaitour.com/wp-content/images/attractions/botanic_garden01.jpg
)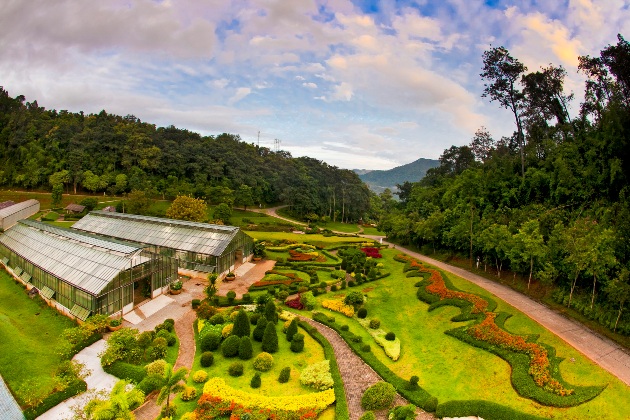 (
https://tatapi.tourismthailand.org/tatfs/image/CustomPOI/Picture/P03007024_1.jpeg
)
Queen Sirikit Botanical Garden It is located in Mae Rim District, Chiang Mai Province. With a total area of about 6,500 rai, it is a place to conserve and collect plants into categories according to various genera. by planting in accordance with the nature as possible building group a conservatory on the top of the hill that has both beauty and knowledge Make this park a place to relax and A place to study nature, plants and landscapes that are outstanding.
This botanical garden was established in 1993 with an area of approximately 6,500 rai. "Mae Sa Botanical Garden" was established to be a botanical garden of northern Thailand. but later transferred into under the supervision of the Botanical Garden Organization along with planning and developing it to be an international botanical garden The first of the country, which in the year 2537 the Botanical Garden Organization received royal permission. from Her Majesty Queen Sirikit Her Majesty the Queen Use the name of this botanical garden. "Queen Sirikit Botanic Garden" here is generally flat and high alternating layers at 300-970 meters above sea level. The nature of the landscaping is divided according to the family and the suitability of the area. Collection of plants both domestically and internationally which is suitable for those who want to study about various types of plants to enter study
(Reference:
https://thailandtourismdirectory.go.th/en/attraction/2107
).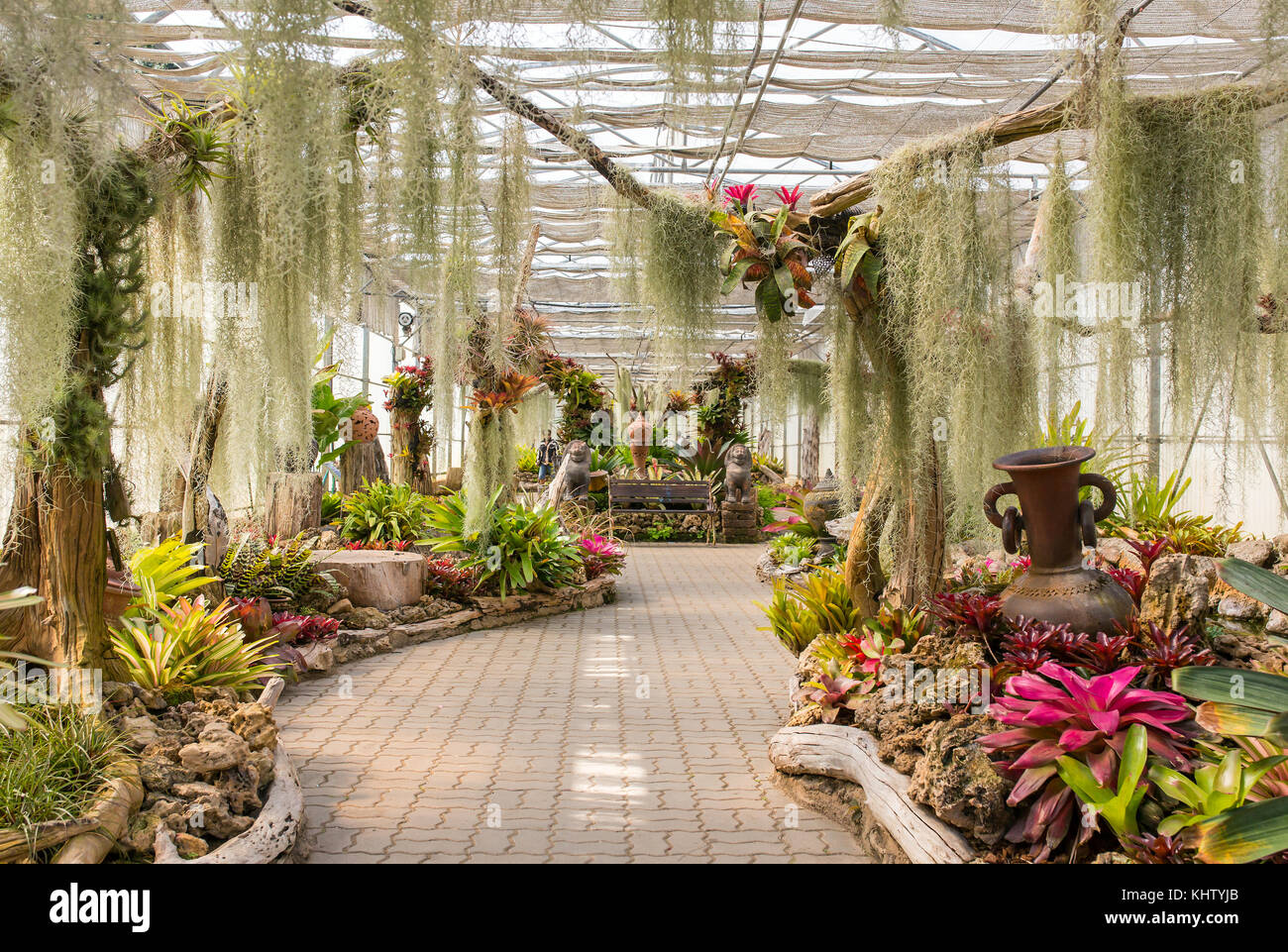 Gardens and Trail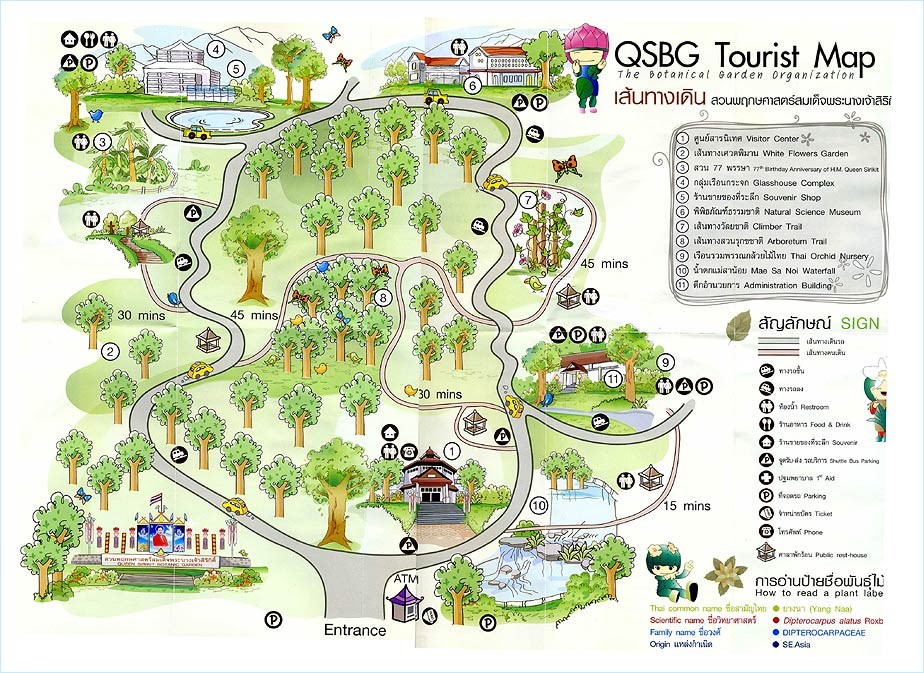 (https://encrypted-tbn0.gstatic.com/images?q=tbn:ANd9GcT868dGzw7iQer8OJ5BbSC0097-tcvUgv0eVA&usqp=CAU)
Gardens
Queen Sirikit Botanic Garden is situated at the edge of the Doi Suthep-Pui National Park with an area of about 1000 hectares. The garden sprawls over a hillside climbing from the Mae Sa stream at about 500m reaching a highest point (in a conservation zone) at about 1200m. Encompassed within this area are gardens, glasshouses, trails and natural vegetation ranging from hill evergreen through dry dipterocarp forest to pine forest areas. Three streams flow through the garden into the Mae Sa stream, which also runs through the gardens and down the Mae Sa valley. Within the garden you can explore walk trails, gardens and glasshouses all showcasing a rich diversity of plants either in their natural settings or arranged according to some theme or classification (Reference: http://www.qsbg.org/QSBGenglishweb/explore.html?activepage=explore).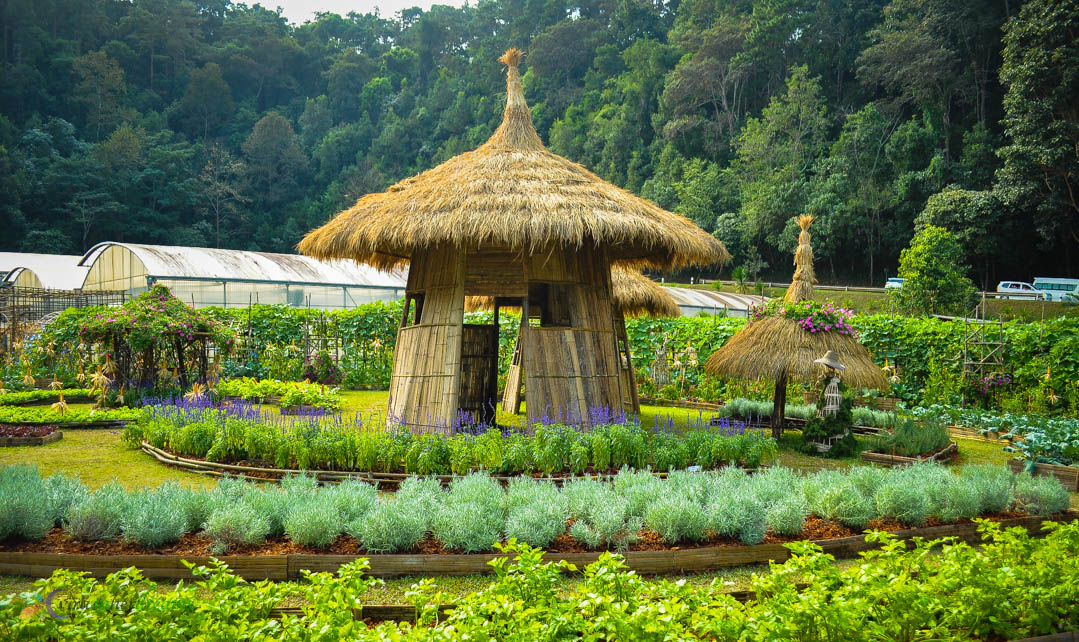 (https://iraonherdreams.com/wp-content/uploads/2019/01/iraonherdreams-Chiang-Mai-Botanical-Garden-Featured-Image-1-of-1.jpg)
The Waterfall Trail
Passing by Mae Sa stream and Mae Sa Noi Waterfalls this trail leads to the garden's ornamental flower beds and onto the Thai Wild Orchid Nursery. Plants from the families Agavaceae, Moraceae, Verbenaceae, Euphorbiaceae, Cactaceae, and Clusiaceae are featured along this trail.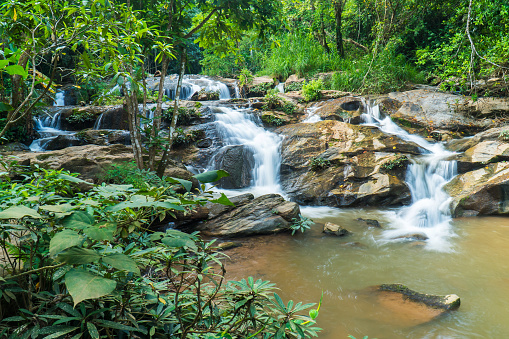 (https://media.istockphoto.com/photos/mae-sa-noi-waterfall-in-botanical-garden-in-chiang-mai-thailand-at-picture-id1187643779)
About Chiang Mai
Chiang Mai is a land of misty mountains and colorful hill tribes, a playground for seasoned travelers, a paradise for shoppers and a delight for adventurers. On a trip to Chiang Mai, the curious traveler can expand their horizons with Thai massage and cooking courses. Others will be bowled over by the variety of handicrafts and antiques. The wild child will find plenty of lively nightlife, and the epicure can indulge in wonderful cuisine. Despite its relatively small size, Chiang Mai truly has it all. Located 700 km (435 miles) north of Bangkok in a verdant valley on the banks of the Ping River, Chiang Mai was founded in 1296 as the capital of the ancient Lanna Kingdom. Today it is a place where past and the present seamlessly merge with modern buildings standing side by side with venerable temples (Reference: http://www.jcice.org/info).

(https://cdn.britannica.com/07/192407-050-548620BE/Sunset-view-Chiang-Mai-Thailand.jpg)
Five places to go nearby Chiang Mai University and Uniserv Hotel



1. Nimman Road and One Nimman

Nimman Road and the surrounding side streets are at the heart of the trendiest part of Chiang Mai. Occasionally known by its full name of Nimmanhaemin Road, the place is alive with fashionable restaurants, cafés, bars, shops and boutique hotels, such as"Maya Lifestyle Shopping Center, One Nimman, and Think Park". The choice of things to actual see and do is fairly limit, especially when compared to the likes of Chiang Mai Old City. However, what little there is offers peaceful relaxation, with a little bit of the characteristic quirkiness of this trendy part of town.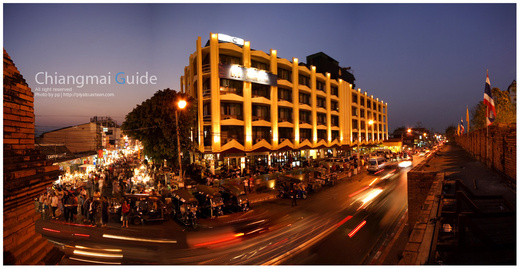 As the world's biggest shopping malls proliferate at a rapid pace across Asia, a sleek, minimalist new style mall has sprouted up - and spread successfully - in Thailand. One Nimman, located in Chiang Mai uber-hip Nimman's area is the newest one. The innovative architecture (half indoor - half outdoor) and the brick style building seemed surprising at the beggining.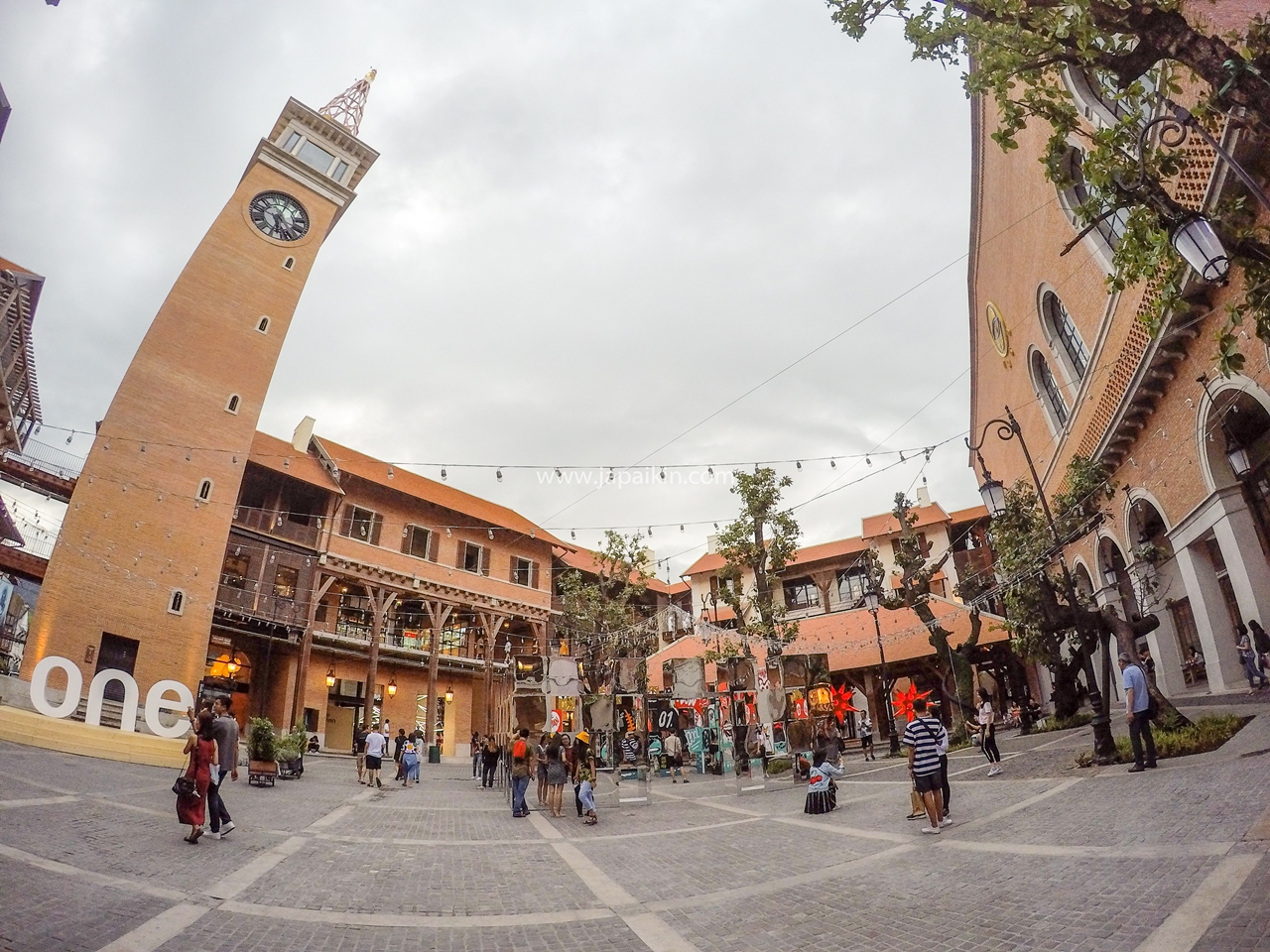 (https://www.japaikin.com/wp-content/uploads/2018/04/one-nimman-71.jpg)
But it developed to become Chiang Mai's hip place to go for in-trend shopping, beautiful pictures, delicious all-day treats, innovative crafts, elegant house ware and interior decor items. A total of thirty shops, restaurants and spas awaits you at One Nimman, among them a beautiful flower shop, a traditional and trendy men's barber and designer cloth shops. The second floor is reserved for a more "touristic" oriented shopping search, stocking everything from clothing to Thai souvenirs, brand names, footwear, Thai traditional creams and health balms. This second floor offers a convenient onestop shop with a wide range of products and brands under one roof. If you are hungry while shopping, you can choose to taste one of the many restaurants (from fusion cuisine at Ginger Farm to refreshing juices at Mango Tango). One Nimman's has also opened a modern Food Court with more than fifty famous restaurants presenting Thai, Japanese and sea food specialities. Since its opening, One Nimman has become the place to go for in-trend selfies and nice pictures. And at night, people enjoy walking in the cozy alleys, especially on Saturday and Sunday evenings when free courses of swing and salsa dances are organized (Swing is every Saturday night and Salsa every Sunday night from 8 pm). Fun, Trendy and delicious, its all under one roof at One Nimman (Reference: https://changpuakmagazine.com/).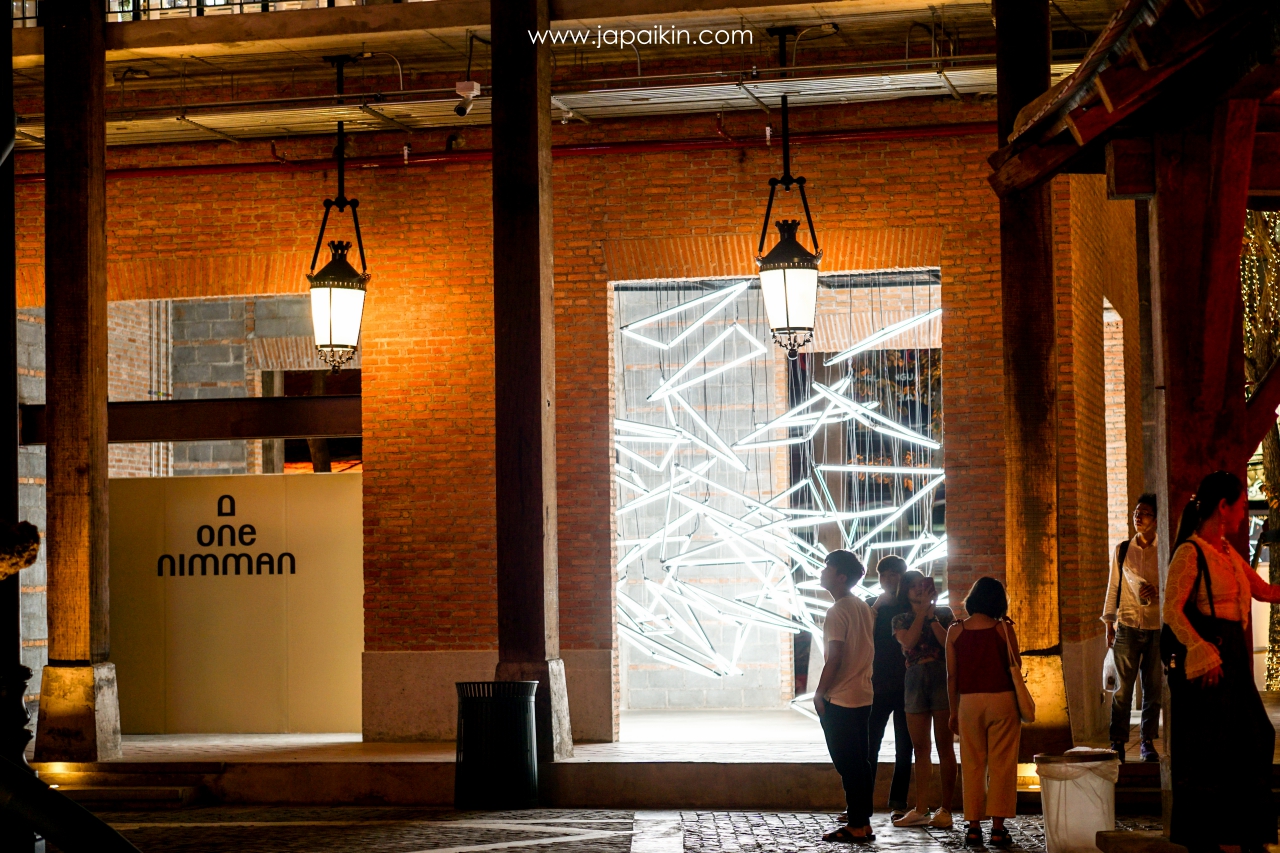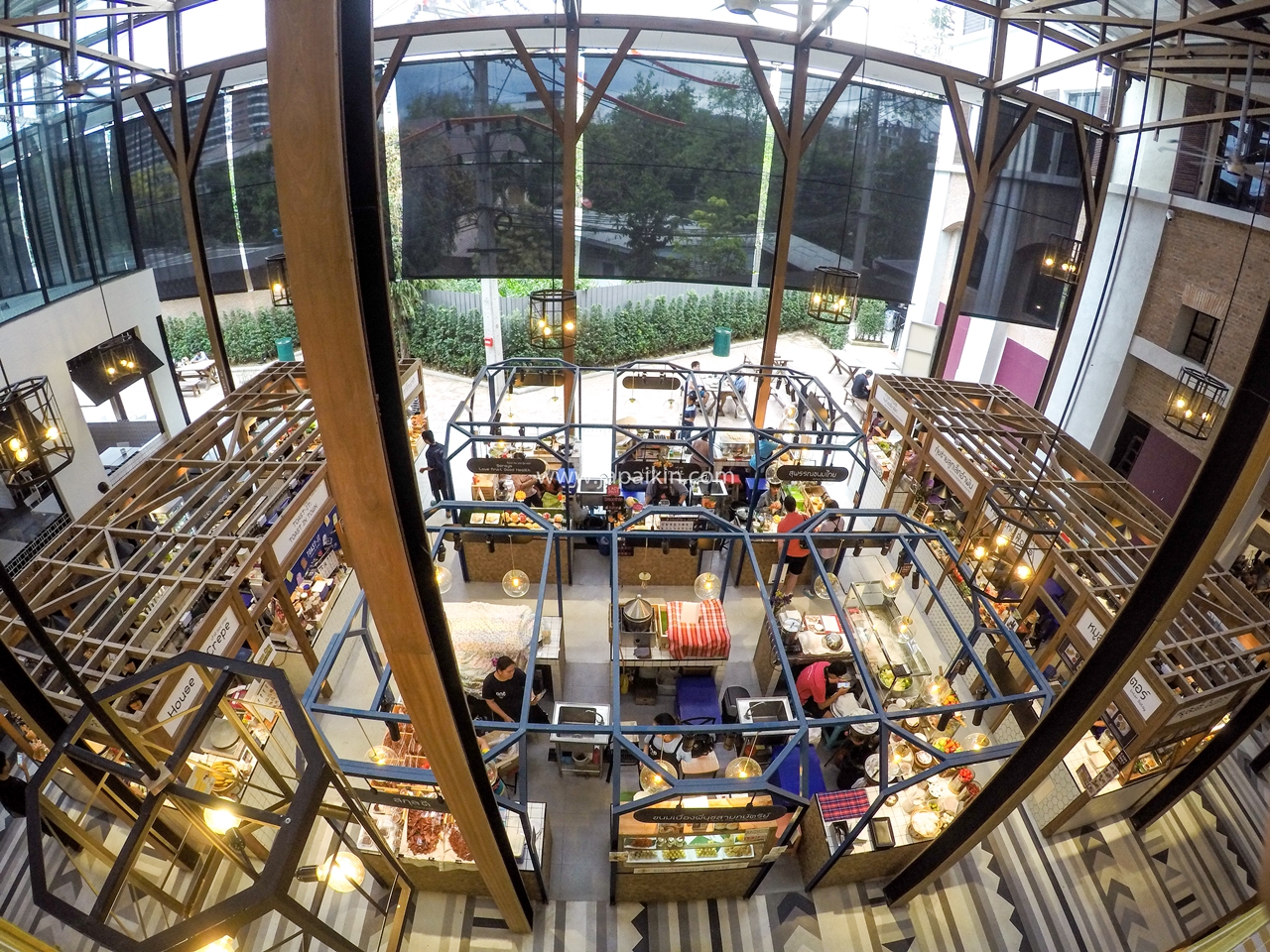 https://www.japaikin.com/wp-content/uploads/2018/04/one-nimman-70.jpg
2. Ang Kaew in Chiang Mai Univ. (CMU) & Kad Na Mor

Chiang Mai University has a beautiful, green campus and offers tours around the large campus on electric buses. There is one stop allowing customers to get off the bus and take pictures at Angkaew Reservoir, a large artificial lake with a backdrop of Doi Pui mountain. It might sound strange that a university is a tourist attraction, but with large gardens, a reservoir and some listed buildings there is indeed plenty to see inside the grounds of Chiang Mai University.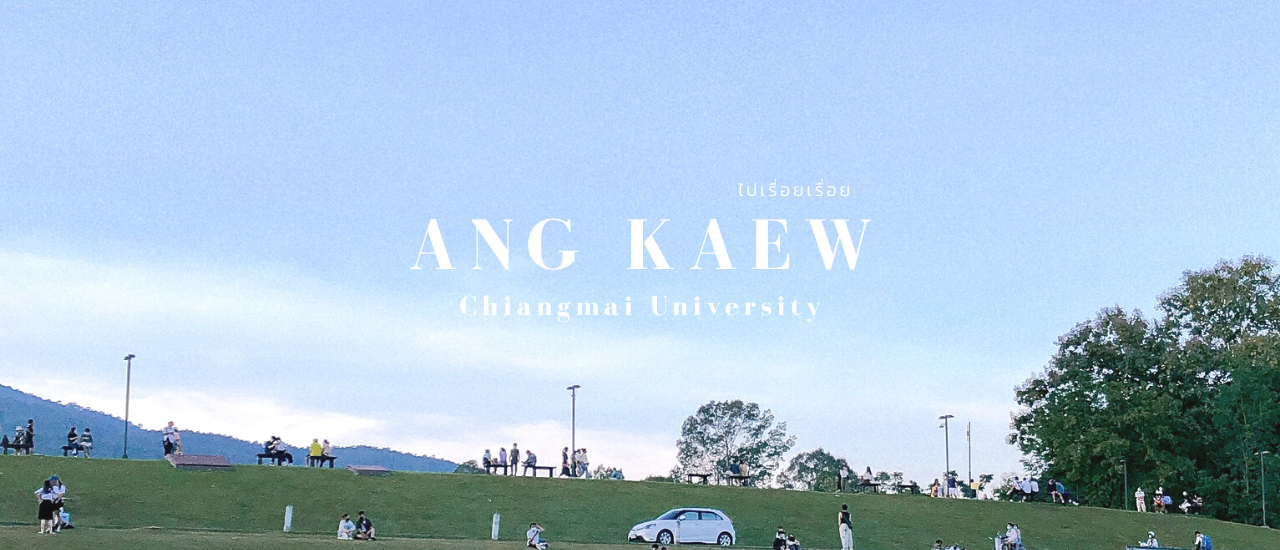 (https://th.readme.me/f/40572/cover.jpg)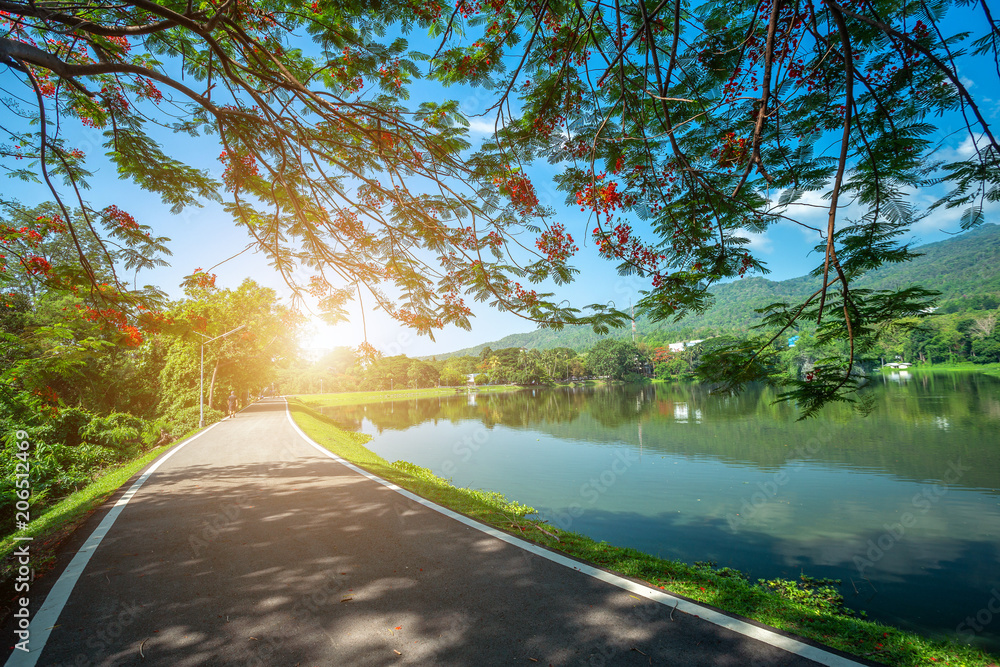 Moreover, just 10 min walking from Ang Kaew, there is "Kad Na Mor", a night market in front of Chiang Mai University. Open every day from sunset, the market is arranged with fashion at the front, food in the middle and a large parking area for cars and motorbikes at the back of the market. Kad Na Mor (which means 'market in front of the university' in Thai) has over 100 stalls and shops selling cheap clothing for men and women, handbags, sunglasses, shoes, underwear and beauty products (reference: http://www.chiangmai.bangkok.com).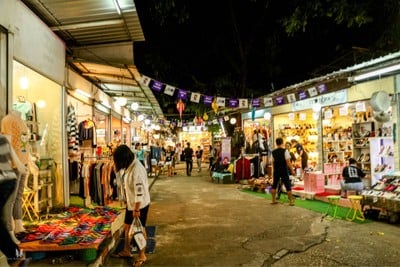 (https://img.wongnai.com/p/1920x0/2019/08/04/1c0deda4b1df4a26a858ba5ecca5dac3.jpg)
3. Chiang Mai Zooand Chiang Mai Zoo Aquarium

Nearly 400 different species of animal are kept at the Chiang Mai Zoo, including elephants, tigers, chimpanzees, hippopotami, rhinoceroses and "panda" as zoo's stars. Chiang Mai Zoo in Thailand is home to a wide variety of majestic and fascinating wildlife, including rarer species like the panda. A few of the amazing animals here are the koala, meerkat, zebra, and penguin. There is an aquarium too. Located in Chiang Mai, Thailand, the zoo is one of interesting destinations in Thailand as there are many things to see and many activities to do here
(reference:https://www.tourismthailand.org/Attraction/chiang-mai-zoo)
.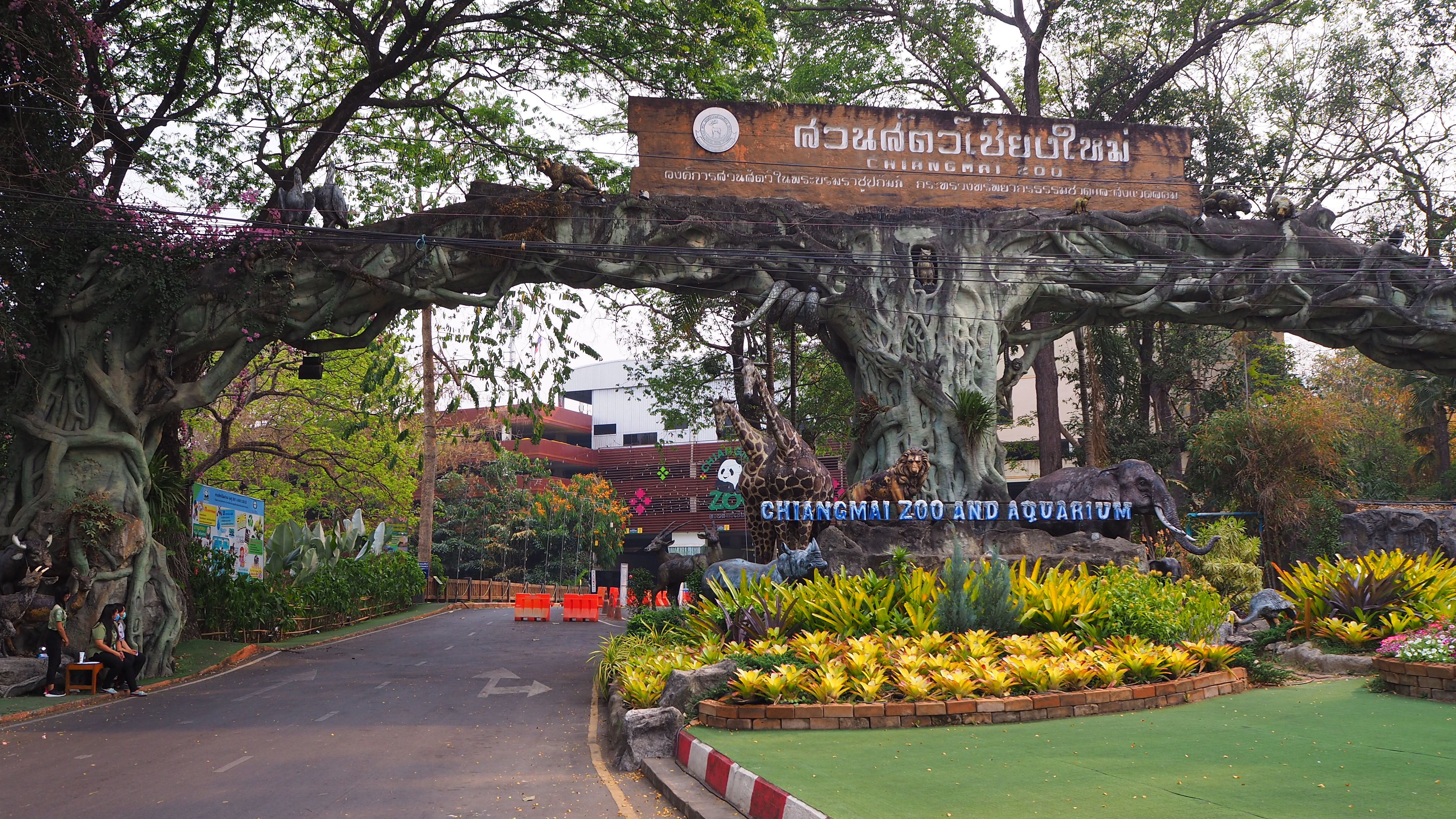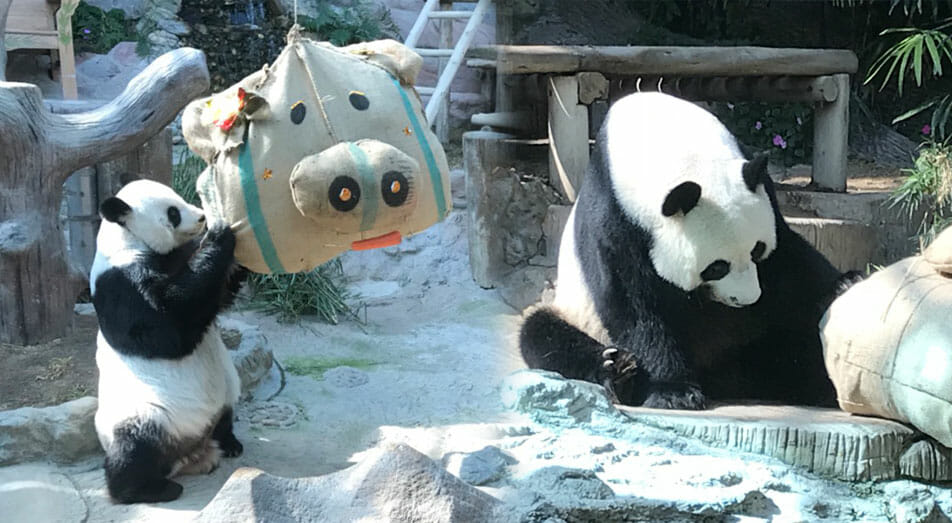 Visit the aquarium with its 133 meters long walkway and see amazing creatures of the deep. Try the night safari with a tour guide to learn more about incredible animals, available from 6.30-9.00 pm. - Enjoy the adorable penguin and the gouldian finch. Have fun at Chiang Mai Zoo Kid Water Park. - Nakorn Ping aviary is six acres in size, the biggest in Thailand. The kid zone has lots of cutest animals for kids to learn about. Admission fee for Chiang Mai Zoo Adult 100 THB Child 20 THB Student 20 THB This price doesn't include a pass to special zones, so if you want the full experience, it is better to buy one of the package deals.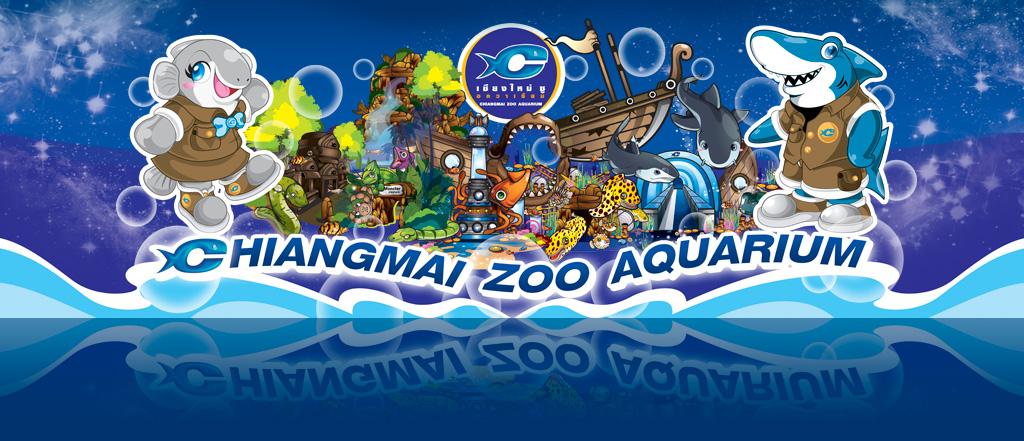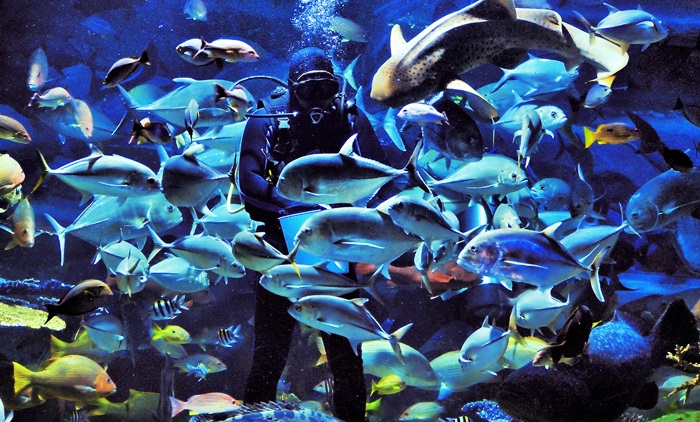 (https://aseanrecords.world/wp-content/uploads/product/userfiles/upload/images/00010701_ezkWWaV_original.jpg)
4. Museum of World Insects and Natural Wonders

The museum creators are Dr Rampa Rattanarithikul and her husband, Manop, opened in 2002, and contains examples of more than 10,000 species. Dr Rampa started out collecting and mounting mosquito specimens as part of her work with a malaria control program in 1959. She personally named 13 new species of mosquito and the collection now includes examples of all 459 known mosquito species in Thailand.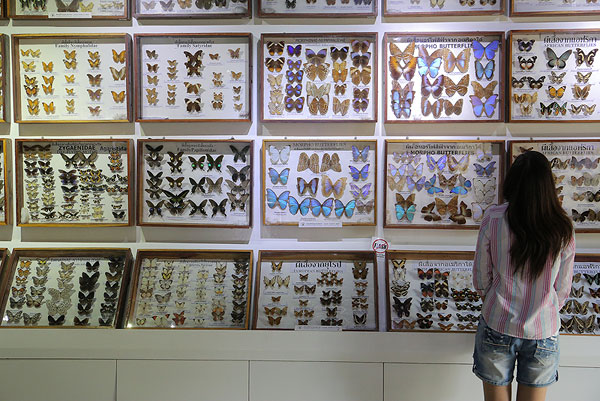 (https://thailandtourismdirectory.go.th/assets/upload/2017/12/25/20171225d65fd207edce105e6aed79a27211d548135128.jpg)
5. Doi Suthep

Doi Suthep is a constant part of life in Chiang Mai. A Thai saying goes, "If you haven't tasted Khao Soi or seen the view from Doi Suthep, you haven't been to Chiang Mai." This regal mountain overlooks the city from the northwest, providing commanding views from its summit. On the top of Doi Suthep, there is "Wat Phra That Doi Suthep, golden pagoda" as the old temple which have been founded in 1383 when the first pagoda was built. Morover, there are dense forests hanging from the mountain's shoulders like a cloak; deciduous at lower elevations and evergreen near the peaks of the mountains (references: http://www.chiangmai.bangkok.com, wikipedia).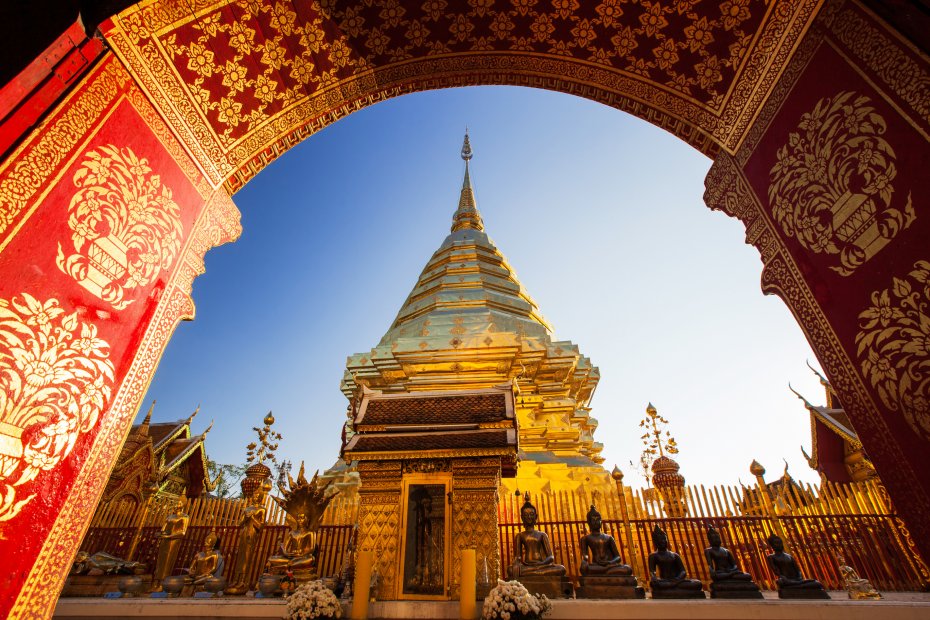 (https://pt.vecteezy.com/foto/1211641-wat-phra-que-doi-suthep-templo-historico-na-tailandia)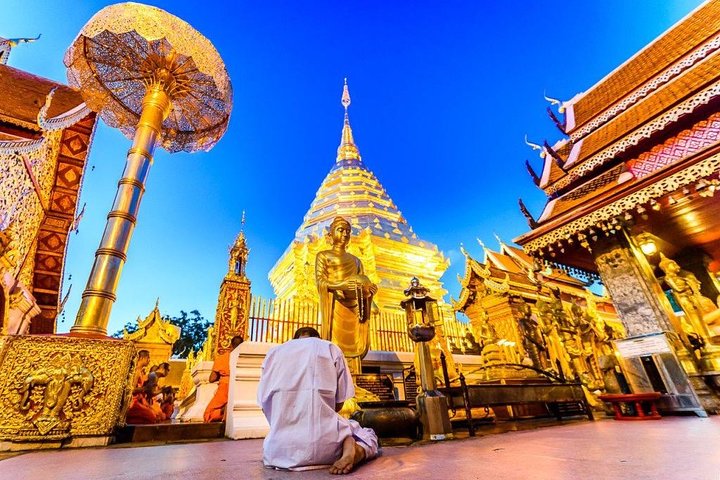 (https://livingnomads.com/wp-content/uploads/2019/09/17/wat-phrathat-doi-suthep-chiang-mai-1.jpg)